Find Parts Fast
To See Your Recent Searches Please

Login
Check it Out! New Features for SourceESB!
SourceToday Digital Issues
Monthly Digital Editions
Download today at the App Store
Unique Content only available in the issue
Featured Products from trusted distributors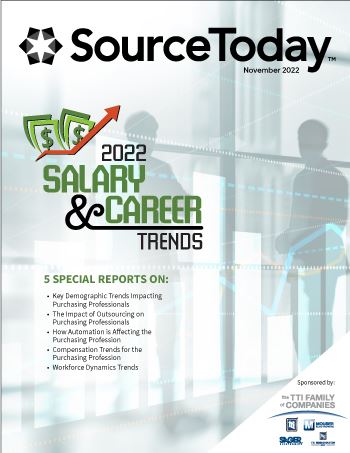 Content focus for the week of November 28th
Featured Content
2022 Top 50 Electronics Distributors

For 2022 List click here
Click here for the eBook featuring various distributors
Featured article Weathering The Storm
SourceESB Inventory Alert Feature:
With all of the shortages and the need for products you should be creating inventory alerts.
Be alerted when inventory hits the shelves
Need to buy stock before quantities get too low? Set that alert too.
5 Easy Steps

Register on SourceESB.com
Search the part you are looking for
Click the part number you want
Click on the green Get Inventory Alert button
Set your alert and be notified once it is in.
We want your feedback on this new feature so email us at SourceESBinfo@endeavorb2b.com 
Featured Content
Salary & Career Trends Research

This report covers the impact of demographic trends on purchasing professionals and is the third in a series of five reports covering key dimensions related to salary and career trends. Other reports in this series will cover the following topics:
Have any questions or concerns please email us at SourceESBinfo@endeavorb2b.com